Description :

The FP series switching power amplifiers are Sanway innovative technology achievement. They are designed to achieve unsurpassed sonic performance and longterm reliability for operating even under extreme rigorous conditions. In addition, this workhorse of the high power class TD amplifier is loaded with features including full short circuit open circuit, thermal and mismatched loads protection,and intelligent cooling system etc. Sanway FP10000Q 4 channel live sound amplifier is the core model in the FP series with competitive price, which is a perfect design for large scale events.
Feature :

1. switching power supply
High efficiency and stability of the new switching power supply
2. intelligent signal limiter
Each channel has an independent output signal overload distortion, automatic pressure lImited function,
to avoid DC level because of the audio signal output and burned speakers.
3. multiple detection, multiple protection
A soft start, the second start, the (low) pressure protection, output overload and short circuit protection.
4. high efficiency, low fever
Efficient Class TD amplifier, significantly reduce heat loss.
5. Metal Packaging, high-power transistors, a pure, passionate, authentic audio effects.
6. removable face Network
Removable the hole into the wind-net, easy cleaning.

Applications :

1>. Arenas
2>. Convention Centers
3>. Medium or large Ballrooms
4>. Perfect for corporate
5>. Theaters Music
6>. Club or Church
7>. Concert reinforcement

Specification:

| | |
| --- | --- |
| ITEM | FP10000Q |
| Output Power | 20-34KHz,1W with 1KHz |
| 8Ω Stereo Power(RMS) | 1350W ×4 |
| 4Ω Stereo Power(RMS) | 2100W ×4 |
| 2Ω Stereo Power(RMS) | 2500W ×4 |
| 8Ω Bridged Power(RMS) | 4200W ×2 |
| 4Ω Bridged Power(RMS) | 5000W ×2 |
| Frequency Response(+0/-0.3dB, 1W/8Ω) | 20Hz -34KHz |
| THD 20Hz-20KHz for 1W | <0.1% |
| Signal-to-Noise Ratio | >112 dBA |
| Channel separation(Crosstalk)at 1KHz | >70 dB |
| Input Connectors (per channel) | 3-pin XLR,electronically balanced |
| Output Connectors (per channel) | Binding Posts 2-pole |
| Class | TD |
| TourClass Protection | short circuit, DC voltage,turn-on/off transient,current inrush |
| Operating voltage | 220V Version: 130-265 V / 110V Version: 65- 135 V selectable |
| Voltage Gain(dB) | 23,26,29,32,35,38,41,44 dB selectable |
| Input impedance | 20 Kohms |
| Level adjustment(per ch.) | Front-panel potentiometer,31position detented from-inf to 0dB |
| Dimensions(WXHXD) | 483×88×396mm |
| Packing dimension | 580×180×560mm |
| Net weight(kg) | 13 |
| Gross weight(kg) | 18 |

Product Details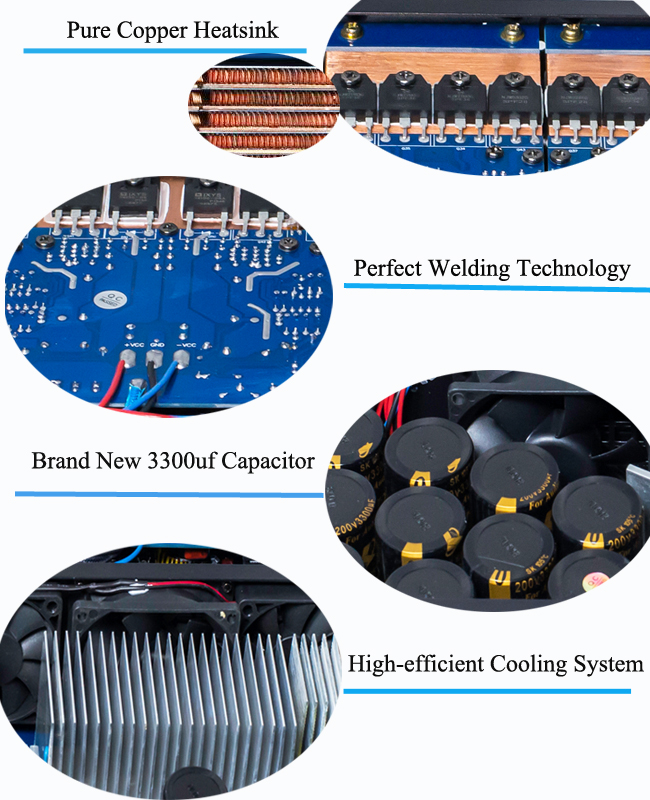 FP10000Q 4 Channel Switching Power Amplifier